L'Abri Newsletter, July 2023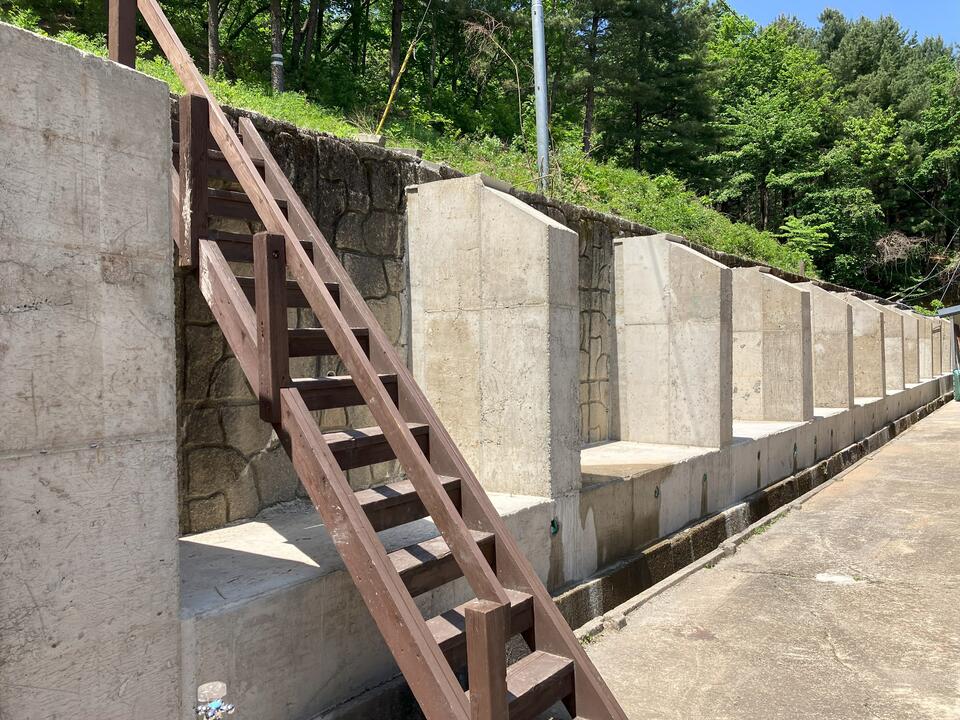 June 26, 2023
Dear praying family,
I want to start this letter by thanking you. The photo you see is of the wall behind our main building that was completed last month. It is a strong wall reminiscent of the old one, built with the offerings left by the late Pastor BukKyung Kim and his wife, Cynthia, and with the hard work of GuangShik Jung. We are grateful to be safe this rainy season.
Thanks to your prayers, InKyung successfully finished his outside sermons and lectures. Visiting Masan Reconstruction Church was very meaningful. The church has been helping even before L'Abri was officially formed and has been with us through prayer and support for more than 30 years. Surprisingly, Masan Reconstruction Church reads and prays through our prayer letters with missionary board members and prays separately for us at group meetings.
I am very thankful and thrilled that churches are everywhere praying for L'Abri, in addition to our individual praying family. What praises can we give to our God, who works on such a vast scale and at the same time listens to the prayers of His children to save each life that comes to the valley of Mount Seorak?
InKyung, who has been speaking at 'Jesus Disciples School' held at Daedeok Hanbit Church for about 15 years, this time gave a lecture titled 'The Worldview of Intellectuals.' Daedeok Hanbit is a church with many science and technology experts and intellectuals due to its close to KAIST. Since the lecture speaks to people like me who are not experts, I will quote a little bit for you:
Intellectuals are prone to ideological extremes. These days, Korea is full of extremes, polarization, and partisanship regarding all issues. The problem in Korea is not the gap between the rich and the poor or between generations but "the polarization of ideologies," as French social philosopher Guy Sorman said in a 2003 meeting with former president Moo-hyun Roh. "In Korea, there is too much ideological polarization between progressives and conservatives. If this cannot be overcome, not only unification but also politics and the growth of industries will be hindered." After hearing his warning, have Christian intellectuals for 20 years tried to alleviate extremes, polarization, and partisanship, or have they taken the lead in exacerbating them?

Intellectuals are prone to being religious hypocrites. In Evangelism: Studying the Acts of the Apostles, Tim Keller said: "Intellectuals love to put down others by telling the truth. Intellectuals want to tell the truth to prove they are right. Intellectuals like to tell the truth by winning arguments. Intellectuals speak the truth with selfish motives. Intellectuals love to show off in telling the truth." Like these intellectuals, let's consider whether or not we are seeing the speck in someone else's eye and not the log in our own.
Of the visitors we have had at L'Abri, many people have lost their faith after having such worldviews. Some time ago, while reading the Bible together, someone unconsciously spat the following words:
"Oh, these people believe that the Bible is a historical fact. They don't think the Bible comprises documents with a little truth and a lot of fiction."
When visitors like this come to L'Abri, the discussions are fierce. Sometimes, a discussion that started during Bible Reading does not end after mealtime but continues until the next day. We make an effort to speak the truth with love to these people (Ephesians 4:15). However, there are times when we fail. As difficult as it is, we desperately need your prayers.
Among our visitors are also young college students who resent God and want to turn away from the faith because they have been sick or have trouble with school and employment. Strangely, if we have complaints, we should persistently argue with God (like Job), but it seems that sinners' heart is to turn our backs on God while harboring complaints secretly. Whether it's the former or latter case, most of the visitors of L'Abri are children of second to fourth generations of the faith who have parents of the faith. We are so sad to see young adults standing at the center of the decline of Christianity in this country, even at the end of their maternal faith.
You know the love the apostle Paul showed his people, right? "I have great sorrow and unceasing anguish in my heart. For I could wish that I myself were cursed and cut off from Christ for the sake of my people, those of my own race, the people of Israel. Theirs is the adoption to sonship; theirs the divine glory, the covenants, the receiving of the law, the temple worship and the promises." (Romans 9:2-4).
We often call Paul the 'Apostle for the Gentiles,' but before Paul evangelized to the Gentiles, he was always found visiting the synagogue of the Jews. He was persecuted, beaten to death, and driven out, but he never forgot his people. Through his words, "For I could wish that I myself were cursed and cut off from Christ for the sake of my people," he poured out his longing for Israel to be saved.
Every time I read these words, I think that many children of their maternal faith who have turned their backs on God without adequately knowing the gospel are similar to the Israelites who did not believe in Jesus and persecuted the gospel. It breaks my heart that, like the Israelites, they seem to be abandoning the good gifts from God, and the great heritage passed down from their parents. Does your heart hurt as Paul's did for the young ones who say they will not believe in God? I sincerely pray you do not give up and endure well with God's comfort.
Conversely, aren't we pushing our youth to serve the idols of the 'world' and 'God' together for success in the world? Because we are to live as stewards of God in this world, we ought to study and work hard. But career and success are not in our hands, much less the most important things in our lives. When we live under the illusion that we can have control over God, or when we live our lives thinking of God as a butler who supports us,' God waits patiently. However, are you aware that He also gives us up?
This summer, we will only open on the weekends (Friday to Monday). We are sorry to those who had planned to stay with us longer and pray that God will guide their journeys. Though we have individuals visiting, many groups of young people will be visiting this summer. Yesterday, about 30 young people from two churches came, and together, we worshipped and listened to lectures. Despite our limitations, we bow our heads to the goodness of God, who sends people according to the situation.
Please pray for our workers. Please also pray for Tae-Yoon and Hyeon-ji, who will be helping us during the hot summer. Hyeon-ji experiences severe morning sickness from her pregnancy and even faints a while back. Please remember us, especially in your prayers. We do our best with honest seekers, but we also work while embracing the pain of those trying to let go of their mother's faith. Please pray that God will send good workers to work in these areas.
Dick Keyes, who has been working at Southborough L'Abri in the United States all his life, received surgery for bladder cancer and is undergoing treatment. Heather Stootman of Australian L'Abri was diagnosed with lymphatic cancer. Our hearts ache for the suffering of our seniors who wept, laughed, and loved together as one in the Lord beyond language and skin color. Heather's words move me: "In everything this broken world brings along, God is eternally good to those who are his." Please pray for them.
Please pray to restart a worship service at Jeongdaun Village, a facility for people with disabilities near L'Abri. However, due to the coronavirus and the restrictions on outside visitors, worship was suspended for the past three years. During that time, Sang-Rae, who suffered from cerebral palsy as a child but had excellent computer skills, studied the Bible with us online. I still vividly remember how, a few years ago, when Dr. Cordell Schulten, Handong Global University professor, gave a wonderful message, both people with and without disabilities responded well to the Word of God. Please pray for L'Abri Chapel is considering to take spiritual responsibility for them.
I hope you will recover your tired minds and bodies this summer. I sincerely hope you all will regain strength as church summer events resume for the first time in three years. Above all, I pray that Romans 12:2 will become true. "Do not conform to the pattern of this world, but be transformed by the renewing of your mind. Then you will be able to test and approve what God's will is—his good, pleasing, and perfect will." I pray this summer could be a blessed time of proper recovery for you and renew your mind in the Lord.
Yours,
KyungOk Sung
Translated by Ye-Jin Ahn