L'Abri Newsletter, February 2014
February 24, 2014
Dear L'Abri praying family,
We greet you with the good news that the snow on our roof that many of you worried about is gradually melting away, thanks to the God-given sunshine. It feels as if it would be cozy to lie down on the snow, still thick and soft as cotton. Yet the glistening snow was so cruelly frightful till only a few days ago.
The snow was light and beautiful when it began to fall on the night of February 6. But then it turned into a heavy snowstorm. The next morning we had about 30cm, and on the next day, the stick that our children put up in the garden to measure the snow was no longer to be seen. The total amount of snow we had this time is about 150cm (5 ft). Not far away from L'Abri, in the town of EoSeongJeon, it is reported to have snowed over 200cm (6 ft 7 in) so that some people had to wait several days before they were rescued out of their isolation. We also came down from the third-floor attic to the first floor for safety. We could not even go out to buy groceries.
From the beginning, we gave up cleaning up the snow on our parking lot. It took days to build a narrow tunnel through the snow, just big enough for one person to pass, to the main road. It was not an easy job to shovel off walls of snow nearly as tall as ourselves. Our family would have difficulty sleeping thanks to muscle aches all over our bodies. But that was the least of the problems.
We had hundreds of tons of snow on our roof. Many people suggested various ideas for cleaning up the snow to prevent the roof from collapsing. The local fire department sent us some men late at night to examine the situation, but the only solution they could offer was to melt it with sunshine. Since the Sun refused to show its face for about ten days, the only thing we could do was to use our fireplace to heat up the building. Thankfully, we had lots of jujube and pine firewood stocked up for the winter.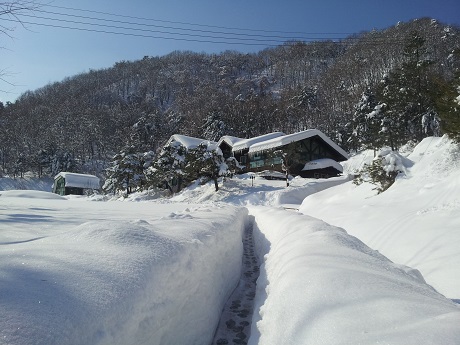 The nights were terrifying. Each night we woke up several times to check how much snow was being piled up, alarmed by the sound of trees cracking under the weight of snow and the sound of snow sliding down the slope. When morning came, we set up temporary pillars around the house to prevent the eaves from sagging. It took us two days to excavate the cars out of the snow to go shopping. It took Euijin one hour every day to go through the snow to feed the animals.
Thankfully, the snow has begun to melt since yesterday, coming down from the eaves like drops of rain. The booming sound of slabs of snow and icicles falling from the roof no longer surprises us but delights us. There will be a lot of work to do after the snow is gone: we need to fix the damaged eaves, as well as the short-circuited outdoor lamps. But outside the door, the wall of snow is still as tall as I am.
We are sincerely sorry that many people had to cancel their appointments due to the weather. Most of our guests cancelled their visits, and we also had to cancel several outside lectures. Yet there were also fifty brave teachers of Handong Global School who came through the snow for a lecture and tea at L'Abri. Starting today, we're having a lot of visitors again. In order to get in, they have to park their car by the road and walk a long way through the narrow tunnel. Yesterday, we took out the garbage for the first time in seventeen days. What a relief it was!
We are especially grateful that Kim and Cynthia found ways to spend our days of isolation extremely well. It was wonderful to see them bake cakes, prepare food for us, and read books, always eager to help. Chunseong worked hard for days trying to get to the old gas station building. Many people encouraged us with phone calls, e-mails, texts, and prayer. Inju, who is going to stay with us as a helper from March, also came down from Seoul for two days to help us clean up the snow.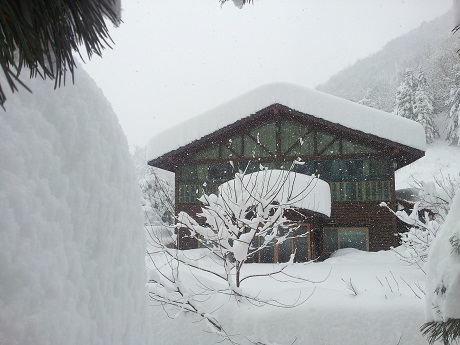 We would like to share a few thoughts that we had during the snow. We realized the importance of the safety of our house, physically as well as psychologically. The encouragements and prayer we received from our family and friends were immensely helpful to overcome worries and troubles. We also felt the need to prepare ourselves in the face of global warming and the abnormal weather that it brings. As our auditor Jaeyong Shin suggested, we need to check the safety of our facilities in general and also consider building an underground complex in the long term, to protect ourselves from heavy snow, typhoons, and wildfires. Above all, we became keenly aware that "Unless the Lord builds the house, the builders labor in vain. Unless the Lord watches over the city, the guards stand watch in vain." (Psalm 127:1, NIV)
The spring term (March 10-22) is already fully booked. Due to the shortage of workers, we are only opening for a short period. We believe that God who sends us people will also send us people to help them, but please continue to pray for good workers to come. And please pray for us to have wisdom to make good use of our limited time and abilities.
As always, please remember our finances in your prayer. We could not attend the Members' Meeting last year. If funds permit, we hope to attend this year's meeting, to be held in Greatham from April 9-14. Please pray also for KyungOk's mother who is receiving treatment for thyroid cancer.
L'Abri aims to save a few people, or, just one person. And for that purpose we are devoting our lives and using a lot of money and a big house as well. In a sense, it is extremely inefficient and may even appear foolish. If not for your prayer and support, we cannot afford doing even this; but what you do in silence for L'Abri is not what the world acknowledges. We do not believe that you expect an observable, palpable reward in this life. Still, we wish to show our sincere gratitude and respect for those who participate in the work of God – of which the world is not worthy.
Under the (finally!) snow-free skies of Yangyang,
KyungOk and InKyung
Translated by Haejin